Corona Update: The status of ocean freight and airfreight
Image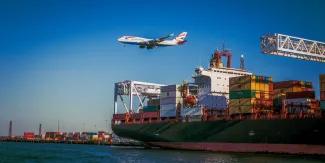 The Coronavirus started in China, and it slowed production capacity down to a stop. With the number of people recovering now higher than the number of people getting infected in China, the tide slowly seems to be turning. The factory of the world is starting up again.
Ships Sailing, but Where Are the Containers?
Container shipping from China to Europe and the U.S. is starting up again. The backlog of containers waiting to be shipped out is slowly getting smaller. However, there are still a few challenges. 
Many sailings were blanked in the past weeks. Next to stacks of goods waiting to be shipped out of China, this created a new problem. The blanked sailings have caused a shortage in empty containers. These empty containers are in the wrong place because ships filled with empty containers didn't sail.
"When we have equipment shortages, carriers usually focus on empty repositioning over backhaul cargo" given that "the premium for backhaul cargo is very low." This dynamic can "lead to massive spikes in backhaul rates." In other words, backhaul cargo moving from Europe to Asia, for example, would compete for space on ships with empty containers — and the cost to ship those backhaul cargoes would increase.
Read the full story on FreightWaves here.
MSC is deploying the world's biggest ships to evacuate empty containers from China to the US, as carriers on the transpacific try to overcome imbalances after weeks of coronavirus disruption to their box control systems.

There have been reports of severe equipment shortages in the US and Europe as a consequence of carriers blanking around half of all headhaul sailings since Chinese New Year, due to the Covid-19 virus outbreak.
Read the full story on The Loadstar here.
According to CMA CGM, there is a rebound in shipping volumes and exports increased from the China market. Al Jazeera reports:
Severe congestion at Chinese ports is easing, say officials and industry participants, 

although a logjam of refrigerated containers has disrupted supplies of fresh and frozen food, and pushed up freight rates outside China.
Read the full story here.
Is Airfreight the Answer?
The disturbance in the freight market is not just on water. There are problems with shipping cargo through the air as well. Many passenger flights are still cancelled. A large percentage of cargo is moved across the globe in the holds of passenger planes. And they aren't flying… This problem is getting even bigger with the US blocking travel from Europe. 
Supply Chain Dive reports:
Cargo-only flights represented 3.3% of total flights originating in the EU in 2017, the most recent year for which data is available, and belly cargo takes a large and increasing share of total airfreight originating there, according to the EU's 2019 European Aviation Environmental Report. The amount of cargo travelling in the belly of passenger flights increased 55% from 2005 to 2017 while the tonnage of all-cargo flights decreased 2% in the same period.
Full article here.
And in another article:
Flight cancellations out of China have removed 5,100 tons of capacity from China per day on average, which has led to a 36% year-over-year decline in total airfreight capacity out of mainland China, according to an operational update from Agility Logistics.

…

Goods that would normally travel by other modes, either by ocean or surface transportation, will travel by air in the coming weeks "because of the urgency to go to market"

…

As demand for airfreight within and out of Asia remains higher than capacity, some airlines are considering running cargo-only flights in the region. Scoot, an airline based in Singapore, is one airline that has begun offering freighter flights into China.
Read the full article here.
No End in Sight Yet
While the situation is slowly getting better, the end is not yet in sight. Freight is starting to move again over water and through the air. A lot of shippers have found alternative routes as well, and the rail freight connections between China and Europe have never been more popular.
We will keep you updated on further developments.