Transport Logistic Munich 2023: A Recap
Image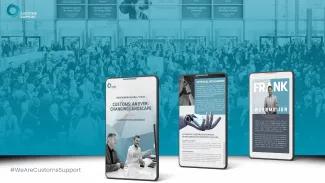 Last week, Munich hosted the highly anticipated Transport Logistic event 2023, bringing together industry leaders, cutting-edge technologies and unparalleled networking opportunities. If you missed this event, fear not! We have asked some of our attending colleagues to tell all about this event to keep the excitement alive.
A Vibrant Atmosphere and Impressive Attendance:
The event kicked off with an incredible atmosphere that buzzed with excitement and energy. Stephan Hoffert, Business Development Director France at Customs Support, described the experience as a captivating journey from start to finish. The bustling halls and electrifying atmosphere created a vibrant mix of hard work and meaningful exchanges. At the heart of it all, the Customs Support team showcased our professionalism, seamlessly blending it with a cool and fun vibe at our impressive booth.
Travelling from the UK, Emmett Young, Business Development Director for the UK, recognised the significance of attending such a renowned event. Emmett Said:
"With over 75,000 delegates representing 120 countries, it was evident why this event is widely regarded as one of the best in the industry. For us, this event presented a rare and invaluable opportunity to connect with overseas clients and colleagues from across Europe under one roof."
Insights into the Industry and Technology:
Beyond the networking opportunities, the event provided a window into the latest trends and technologies shaping global trade.
At Customs Support, we eagerly seized the chance to explore cutting-edge advancements in logistics, mobility, IT and supply chain management. From autonomous vehicles to state-of-the-art warehousing solutions, we delved into the future of logistics. Understanding the importance of staying ahead, in a rapidly evolving industry, is key to our commitment to building future-proof digital customs solutions that meet and exceed the needs of our clients.
As a testament to this commitment, we offered a special event exclusive: a free early download of our whitepaper on the digitalisation of customs. This valuable resource provides insights into the transformative potential of digitalisation in customs processes and serves as a testament to our dedication to helping businesses navigate the future of global trade.

Creative Engagements and International Flow:
The event's vibrancy extended beyond the confines of logistics expertise. Many of our team marvelled at the innovative and light-hearted approaches embraced by other major companies.
"It was fascinating to witness the innovative and light-hearted approaches adopted by other companies at the event. From ice cream shops to dinosaur costumes, there was a delightful sense of playfulness and creativity. Regarding the talks I attended, one phrase stood out: 'facilitate international flow.' It resonated with us as all the contacts we engaged with were seeking partnerships to enhance their business and streamline exchanges between countries and companies." - Stephan Hoffert, Business Development Director France
Finding Solutions Together:
Aside from the excitement, this event also addressed the pressing challenges faced by traders worldwide. Our Business Development Director Germany, Gregor Knapp shares more:
"During this event I engaged in insightful discussions with existing German clients, connecting them directly with our colleagues from other European countries. This collaboration allowed for in-depth conversations about current flows, highlighting the value of a single partner who can provide international assistance. It wasn't just our existing clients who expressed interest in our Europe-wide presence and End-to-End solutions. If you are seeking a customs service provider with a global reach, it's not too late to connect with our team!"
Gregor went on to explain that our "Europe-wide presence wasn't the only solution shared over the four-day event, in one case we encountered a company that discovered, through a brief conversation, that their current self-managed processes were not 100% compliant. By engaging with our team, they can now avoid potential issues with customs authorities."
The Power of Networking and Future Collaborations:
For Customs Support, the transport and logistic event of 2023 served as a remarkable platform to showcase our expertise, forge new connections and strengthen existing relationships.
"I was absolutely thrilled to be part of the Munich event, immersing myself in a world of networking, valuable client meetings, and engaging conversations. These conversations shed light on the ever-evolving challenges at the interface between logistics and customs, two realms closely intertwined. Especially as we enter an era of business more focused on digitalisation and sustainability, more than ever before." -  Anastasia Fedchenko, European Head Consulting.
What's Next?
Looking ahead, Emmett Young expressed enthusiasm for maintaining connections with the contacts made during the event. He eagerly considered inviting these new connections to Customs Support's Europe-wide office locations, fostering face-to-face discussions and nurturing future collaborations. The event served as more than a mere showcase of expertise; it was an opportunity to gain valuable insights, solidify relationships and further highlight Customs Support's position in the dynamic and thriving logistics industry.
The Transport Logistic event of 2023 proved to be a transformative journey for Customs Support. Beyond the glittering array of cutting-edge technologies and industry insights, it offered an unparalleled platform to connect with clients and colleagues from around the world. As the event concluded, Customs Support is ready to enter into new collaborations and strengthen existing relationships in order to propel clients to new heights in the dynamic landscape of the logistics industry.
Missed this event? Did you know we will also be attending Manufacturing and Engineering Week 2023?