Brexit Update: Election Day Tomorrow
Image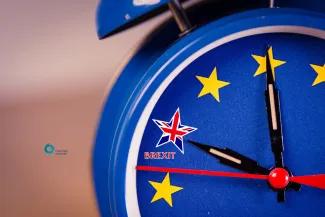 Tomorrow is Election Day in the United Kingdom. A big day for citizens of the United Kingdom, but a big day for anybody trading with or in the UK as well. The outcome of tomorrow's election may finally decide what will happen with the Brexit.
What are the Options?
Reuters has created a nice overview of what will happen based on the various possible outcomes of the election.
Johnson Wins a Majority >> Brexit in January
– Johnson wins a majority of 326 seats or more. The threshold could be slightly lower depending on how smaller parties perform.

– This will enable Johnson to pass the Brexit deal he negotiated with Brussels earlier this year through parliament and Britain will leave the EU at the end of January.
Johnson Doesn't Get an Outright Majority >> Second Referendum Likely
– If Johnson falls short of an outright majority, Britain will have a 'hung parliament' in which no party is able to command a majority.

– Johnson does not have obvious allies in parliament.

– Corbyn may be able to persuade the Scottish National Party and the Liberal Democrats to either back him in a confidence vote or not vote against him.

– The SNP wants a second referendum on Scottish independence.

– If Corbyn is able to form a government, smaller parties are likely to coalesce around holding a second EU membership referendum. Labour says this should be a choice between a new Brexit deal, negotiated by Corbyn, or remaining in the EU.
Johnson Loses a Majority, but Retains Power
– If Johnson falls short of a majority, he may try to keep hold of power by cutting deals with opponents.

– While there are no obvious allies for him based on his position on Brexit, he may decide another term in office is worth the reputational damage of breaking his promise to deliver Brexit in January.
Corbyn Wins a Majority
– If Labour upsets expectations and wins a majority it will have free reign to call a second referendum and begin its program of radical economic reform.
Read the full article here.
Brexit Will Be a Major Challenge for a New Government
According to the BBC, a new government that moves forward with Brexit will have a huge challenge.
The PM has said the UK will fully exit the EU by December 2020 if he wins the election and MPs approve his plan.

But the document says the government will struggle to deliver the infrastructure and staffing needed by that deadline.

…the document from the Department for Exiting the European Union (DExEU) has cast doubt on whether the government will be ready to meet this proposal when it comes to new arrangements between Great Britain and Northern Ireland.
Read the full article here.
Will Johnson Be Able to Keep His Promise
The Mirror reports that Boris Johnson may not be able to keep his promise of getting the Brexit done by the end of next year.
Michel Barnier has torpedoed Boris Johnson's promise that Brexit will be done and dusted by the end of next year.

The Sunday Mirror has seen minutes of a private meeting between the EU's chief Brexit negotiator and MEPs which rubbish the PM's pledge.

Mr Johnson has said he will not extend the transition period beyond 2020 – which raises the danger of the UK crashing out with no deal.

Trade talks are planned after Britain formally leaves the EU on January 31.

But Mr Barnier told EU Employment and Social Affairs Committee MEPs: "The EU/UK future relationship cannot be settled in 11 months."
Read the full article here.
Image by Pete Linforth from Pixabay