Digitise Your Supply Chain and Don't Forget Your Customs Processes
Image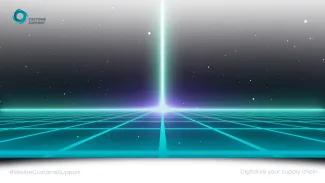 We live in an exciting and challenging time. The pandemic has changed the world as we know it, and while things are slowly returning to how they were, some changes are here to stay.
A lot has happened in the past year that has made it clear that supply chains are fragile. Sometimes it seemed like a flock of black swans landed. In 2020 China, the factory of the world, came to a grinding halt, the impact of which could be felt all through 2021. Singular events like the blocking of the Suez Canal by the Ever Given can also have a significant impact. It caused a backlog for months at ports all over the world. In 2022 supply chains will still be struggling with capacity constraints in air- and ocean freight, due to these disruptive events in 2020 and 2021. Shortages in parts, people, and warehousing space can be added to those problems. And to top it off the prices for ocean freight have gone through the roof. Many companies are struggling to keep their supply chains cost effective.
Whenever there are disruptions and delays, the pressure on the supply chain increases and when shipments are already late, you want everything to go as smooth as possible. You also want to be able to switch to a new supplier in a new country without issues.
Exciting Times
Buying behaviour has changed. Lockdowns worldwide forced people to buy online, and while many will switch back to going to the store, part of the increase in buying through online channels is here to stay. This has an impact on how supply chains are organised.
Consumers have gotten quite demanding as well. The speed with which they can get things delivered has increased from some time next week, to within twenty minutes. This means that supply chains have had to speed up as well. Technologies like machine learning and artificial intelligence are helping companies to optimise their supply chains and ensure their product is at the right place at the right time.
Looking at technological innovation, we are living in exciting times. Drones are delivering to consumers, robots are operating in warehouses and stores, trucks are autonomously transporting cargo.
Time to Digitise Your Supply Chain
Next to technology, data is critical. Companies have to make sure to have their data in order. If your data quality is poor, the quality of your decisions based on that data could also turn out unsatisfactory. You must maintain the quality of that data across the supply chain. There is the risk of human error resulting in bad data at every link in that chain where there is manual data entry.
Bad data is a risk, especially when goods are exported and imported. If the incorrect data ends up on customs documents, shipments can be delayed or denied, higher than necessary tariffs may need to be paid, and even fines.
Another reason to digitise processes that entail manual data entry is time. Automation saves a lot of time, and that time can be used for activities that add value.
Digitising processes also increases speed and flexibility. Changes to a shipment can be communicated to all parties instantly, and if need be documents and certificates can be adjusted accordingly.
Digital Customs
At Customs Support we have been investing in our IT capabilities for years. This has enabled us to follow the latest developments in IT technology, using and implementing them in our processes. We are saving time and money for our customers and for ourselves, enabling all stakeholders to spend more time on activities that actually add value. Digitising our customs processes also enable us to give our customers better insights in the flow of their goods and the status of their shipments.
If you want to know more about how our digital customs capabilities can support en strengthen your supply chain, contact one of our experts. They are happy to help and can answer all of your questions.