The faster your shipments reach their end destinations, the fresher the fruit.
Image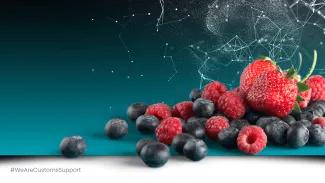 Whether you are a logistics service provider or an importer of fruit with your own logistics operation, you want your shipments handled with care. The faster your shipments reach their end destinations, the fresher the fruit. So, having all your customs processes in order will save you time and prevent unnecessary delays.
In most cases, clearing a container through customs happens at the terminal. Import duties and VAT are paid if applicable and then the container leaves the terminal. But in the case of shipments with fruit, the process is different.
Getting Your Fruit Through Customs
Before a shipment of fruit is allowed into the European Union (EU), it has to be determined that the fruit is safe for consumption and that all rules and regulations were complied with. In some cases, this means a physical inspection by the Customs Authority or the Nationale Voedsel en Waren Autoriteit - NVWA(the Dutch Food and Drug Administration).
Fruit inspections depend on different variables:
The classification code of the goods

The origin of the goods

The risk profile associated with the goods
A customs specialist can determine whether the goods are subject to inspection. When they are, our customs specialists submit an inspection declaration to the Customs Authority. Then a T1 document needs to be created to allow the transportation of the goods to the warehouse where the NVWA will conduct the inspection.
What Happens After an Inspection?
There are two different outcomes of an inspection of the shipment of fruits and vegetables.
Our customs specialist can make the import declaration if the goods are allowed to enter the European Union.
If the goods are rejected, there are two options. For certain diseases or bugs, You must destroy the shipments. For partial rot, you can take items out of the shipment and we can request a new inspection. This allows you to import partial shipments.
How Customs Support Can Enable You to Import Fruit Without a Hassle
Our customs specialists are trained and highly experienced. They are always aware of the latest rules and regulations and can help you through the process of importing your fruit.
We can assist you with:
Creating import documents

Creating T1 documents

Taking care of the declaration in CLIENT (the declaration system of the NVWA)

Act as your Fiscal Representative (limited or general fiscal representation)

Assist with correctly classifying the goods

Assist with accurately determining the customs value of a shipment (in case of consignment)

Temporarily add your location to our Authorised Consignee permit
Customs Support is a leading digital customs broker. We exchange information digitally and avoid manual data entry. Our declarants focus on adding value and handling exceptions. Digital data exchange minimises errors. Your shipment gets imported with minimal delays.
Contact one of our specialists if you have any questions about importing fruit.