Meet Our People: Customs Support Operational Manager Consultancy Jeffrey Havelaar
Image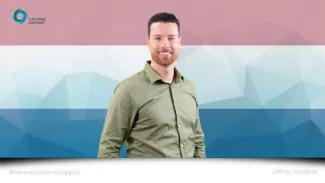 In our series #WeAreCustomsSupport, you will meet the people behind Customs Support. We value our colleagues and the work they do. In this series, we will interview the people who are always ready to assist you with importing or exporting your goods without worries. Next up in this series is Jeffrey Havelaar.
Who are you?
My name is Jeffrey Havelaar. I am 36 years old and live in Rotterdam with my wife and daughter. I have been the Operational Manager for the Consultancy division of Customs Support for over two years.
What does an Operational Manager Consultancy do?
The Operations Manager role is a three hundred sixty degree position. I manage a team of customs consultants. I make sure the workload is evenly spread out across the team. I motivate and support them and enable them to grow and support our customers. I step in to help when there is an escalation of an issue.
Customs Support keeps growing, and the same goes for our Consultancy department. I'm always on the lookout for new talent, whether consultants with a specific area of expertise or administrative staff to support the department. My goal for the coming year is not only to expand the department but also to make it more professional. To give an example. Together with the team, I want to create a knowledge base for our consultants and standardise certain services as much as possible.
What does a typical working day look like?
Typical? Ha! Most of my days are pretty chaotic. One day could be filled with customer meetings, and another day could be full of internal matters. It is vital to find the right match between the customer and the consultant, as they often work together for more extended periods. It is an essential part of my work. My role is very diverse. It is one of the reasons I like it so much.
What do you like most about your job?
Everything. Like I said, no day is the same. This constant change is what I like best. I love supporting my team, enabling them to grow and grow the knowledge and experience we have in the team. Our power lies in our consultants' combined expertise and experience, who know which colleague to turn to, for example, when they run into a problem they haven't dealt with before. I make sure that both the team and the customers are happy.
What is the biggest challenge for you?
My biggest challenge is expanding the team. We need specialists for the projects we have, and finding the right ones takes a lot of time and effort. Only so many people have the knowledge and experience required for the types of projects we have. For most projects, we need experienced people, and even then, there will be a lot of learning on the job. It takes a certain kind of specialist. I offer them an exciting working environment with international clients and a team of very knowledgeable and experienced people that support each other.
What do you do when you are not in the office?
I love music. I have been a DJ: House, Techno, Latin, R&B, Urban, Afro, music from many different countries and cultures. I loved getting crowds moving and making sure they had a great evening. When I was younger, I created some music myself, but I was more about finding and combining the right music made by others.
My other passion is sports. I like to stay in shape by doing fitness and boxing.
I like to watch a good movie or series to wind down, and I love spending time with my friends and family.
Why Customs Support?
Customs Support reached out to me and asked me to join them. I was working in the job placement industry, where had I set up a new branch focused on the education sector. I was looking for a new challenge, so the timing was perfect. I wanted to work in a position with a three hundred and sixty-degree span, be involved on both the customer and the internal side and be responsible for my department. Customs Support offered me that role.
The customs market was new to me, which was and still is both challenging and exciting. People not involved in customs don't realise what a complex and diverse field it is. I learn something new every day, and I love that.
Customs Support is growing fast, which means there is a lot of change, and change is good. As we grow bigger, a layer is added here and there, but I have found that communication lines stay very short. Whoever or whatever you need, everybody has their door open and is willing to help each other. It's an environment in which I thrive.