New Customs Checks in the United Kingdom Are Coming
Image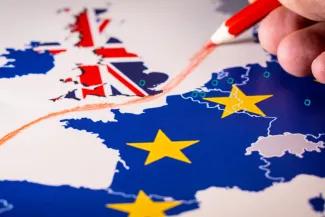 At an event in Northern Ireland Boris Johnson has confirmed multiple times that there will be no customs checks between Northern Ireland and Great Brittain. Johnson wants trade between Northern Ireland and Great Brittain to flow without hindrance or delay.
That Was Not the Deal
Johnson's remarks contradict the Withdrawal Agreement he has agreed with the European Union. The new deal he agreed no longer has the backstop as a solution to trade between Northern Ireland and Great Brittain but worked with check further inland to prevent delays and traffic jams.
On the Sky News website, you can see a video in which Johnson confirms there will be no checks. They further report:
Sky News contacted the Department for Exiting the European Union this afternoon to seek clarification and asked whether the prime minister was wrong in what he said.

The department said: "The policy is outlined in the WA and Explainer for the new Ireland/Northern Ireland protocol."

In other words, yes.
The EU Begs to Differ
In the meantime, EU officials are stating that Johnson's remarks are indeed not what was agreed upon.
Unwilling to be drawn into British election controversy, a European Commission spokeswoman would on Monday only refer inquirers to a written description of the deal by its services which said explicitly that the North "will continue to apply the Union's Customs Code (UCC)". The UCC requires exporters to provide mandatory pre-departure declarations on goods and sets out export formalities.
Read more in this article on the Irish Times website.