Image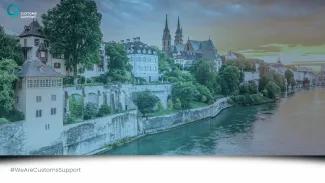 We support the global trading aspirations of our clients from across Europe. One of the countries where we have had offices since 2021 is Switzerland, home of Balimpex AG. As of today, the company will rebrand and become Customs Support Switzerland.
The History of Balimpex
The Balimpex name stands for Basel Import and Export, this perfectly describes what is at the heart of their services.
The customs clearance company was established in 1981 in Basel. Since 1981 Balimpex has grown into an organisation with ten locations along with over seventy employees. Balimpex serve a range of clients at all strategic border crossings between Switzerland and Germany, from Basel to Lake Constance, and at the French border crossing of Saint-Louis / Basel.
The two German locations are in Warmbach and Waldshut on the Swiss border. The other offices are Rheinfelden, Koblenz, Bargen, Thayngen, and Ramsen. The final two locations are in Basel.
Our people in Switzerland are highly trained and experienced. Many have been with Balimpex for more than twenty years. The team in Switzerland has been a part of the Customs Support family for more than a year. They will now also trade under the Customs Support name.
The Services of Customs Support Switzerland
Customs Support Switzerland offers the following services:
Customs clearance

National and International Transit Documents and clearance

Fiscal Representation

Inbound and outbound processing support

Import and export formalities in Germany

Import and export formalities in Switzerland

Temporary clearance in Switzerland
We specialise in fast and accurate customs clearance with modern digital systems for electronic data exchange with the Customs Authorities, like:
EDEC for Swiss electronic customs clearance

NCTS for Swiss exports and transit processing

ATLAS for German imports, exports, and transit processing
Do you need customs clearance services in Switzerland?
Customs Support Switzerland team provides full-service customs clearance services for strategic locations for importing or exporting from Switzerland. Contact us today for more information on how we can help you.