Part of the Customs Support Group
Image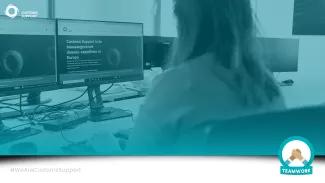 The Customs Support Family keeps growing. In July 2022, we welcomed Portmade as a new member in Belgium. Portmade has been active in the customs industry since 1987 when it was still a department of CMB Transport, a Belgian shipping company. 
100,000 Declarations 
Portmade started as the department that dealt with all services not directly related to the CMB Ships in the Port of Antwerp, the second largest container port in Europe. They took care of many different services for CMB Customers, like container logistics, arranging transportation to and from the port, and customs brokerage services. 
With 5 experienced declarants, they processed over 100,000 declarations each year. 
In 1993 many things changed as the European market became one, and the role of customs in Belgium became more important. Internal European borders disappeared, but this increased the relevance of Europe's outer borders. Antwerp became a key entry and exit point. 
Portmade Becomes a Separate Entity 
With the number of declarations rising, Portmade became an entity separate from CMB. Moving forward, it would serve not only CMB but also other shipping companies and logistics service providers. Portmade evolved into a full-service customs broker, and in 1997 all activities at CMB unrelated to customs were transferred to a separate entity. Portmade focused 100% on customs. In 1999 they opened an office in Zeebrugge, followed by an office in Rotterdam in 2004, enabling them to service the complete North Sea Delta. 
Portmade kept growing, adding more and more new clients. In 2015 the management team decided to do a Management Buy Out, with four partners as the new owners. 
Leading the Field in Digitalisation and Innovation 
The four partners had a focus on expansion, digitalisation, and innovation. They had many close ties with different port communities, like inland ports, forwarders, terminals, and other businesses. They kept building and strengthening their networks, creating a solid base for long-lasting client relationships. 
Another focus point was digitalisation and innovation. Portmade has always been at the forefront of digital innovation. They started and joined different digitalisation projects, within Portmade and in partnership with other players in the logistics industry, with a drive to improve the level of digitalisation in the logistics industry. Digitalisation dramatically increased the efficiency of the Portmade organization. 
Two recent events gave a huge positive impulse to the digitalisation of customs processes. COVID made the industry realise that many processes could be taken care of remotely if a digital approach was chosen. The Customs industry is traditionally very much a paper-based industry, but COVID moved digitalisation forward. The second event was Brexit. Portmade started preparing for Brexit very early, so they were perfectly positioned to support their clients once the Brexit deadline came near. 
Without digitalisation, Portmade would have needed an additional 65 declarants to handle the increase in work from Brexit, but now they only need 4 additional declarants. What also helped was their new 24/7 approach. Portmade is only closed at Christmas; clients can get support whenever needed. It also increased efficiency, as non-urgent tasks could be handled during the night shift, so the day shift could focus fully on urgent cases. 
Portmade now handles 900.000 declarations with 45 people from their three offices. 
We are very happy to join the Customs Support family. We have a shared passion for digitalisation, improving efficiency, and being present for our clients. As the customs industry is small, we already knew our new colleagues in Belgium. We can add our experience and expertise in digitalisation and 24/7 operations to Customs Support and, at the same time, benefit from the large European network of offices that we are now a part of. Many of our clients can now get local support all over Europe.
- Jef Hermans, Managing Director of Portmade Group.