Meet Our People: Huib van Heumen
Image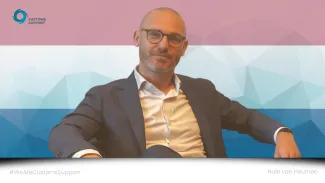 In our series #WeAreCustomsSupport, you will meet the people behind Customs Support. We value our colleagues and the work they do. In this series, we will interview the people who are always ready to assist you with importing or exporting your goods without worries. Next up in this series is Huib van Heumen.
Who are you? 
I am Huib van Heumen. I am 45 years old, born in Den Bosch and raised in Zaltbommel in the South of the Netherlands, now living in the Randstad where we live with our daughter (12) and son (11). My career in logistics started at a parcel carrier: DPD. From the start, my role has been a commercial one. After a stint at DPD, I joined a freight forwarder and learned more about container imports and inland transportation. After that, I switched to the relocation market. 
There is not much emotion involved when you move goods, but it becomes personal when you move people's household effects. You are shipping people's lives. I learned a lot about working with different cultures. 
In 2019 I joined a company quite similar to Customs Support, growing rapidly internationally. I had a great team. In 2021 Customs Support came into the picture, and I decided to jump ship. Now I'm Director International Business Development, and I help customers with their global trade. 
What Does a Director of International Business Development do? 
Business development is responsible for identifying new opportunities for the business to grow and then converting them to customers. We have our eyes and ears on the market, and we build relationships across borders. We find new customers all over Europe and large Internationals that operate in multiple countries. My team is the linking pin between the market and our organisation. I like viewing everything as an opportunity. Positivity is one of my key traits.

What does a typical working day look like? 
I'm communicating all day, on all levels: teams meetings, phone calls, e-mails. We can travel again, which means I can meet people in person, which is excellent after all these months looking at a screen. One of the things I like about my job is the international aspect, and travel is an integral part of that. 
 
What do you like most about your job? 
A few things I mentioned already. I like the international aspect, working with different cultures, companies, and industries. Learning about and diving into new things keeps me energised. I am meeting new people on different levels of a company. I also love reading something in the newspaper and then acting on it and landing a customer because of it. 
What is the biggest challenge for you? 
Let me explain that with a sports analogy. If you are a decent soccer player, but now need to play baseball, you have to get to know the rules and the game. The world of customs is complex. There are many rules and regulations, and they change a lot too. I'm more of a generalist myself. Luckily we have a lot of experts and specialists at Customs Support that can help me out when a deep dive into customs matters is needed. 
 
What do you do when you are not in the office? 
I enjoy spending time with my family. I like travelling to see new places, learn about history and reading. I also love sports. I love to run and watch a good game of football with friends. I'm also a big fan of craft beers and good food. 
 
Why Customs Support? 
Customs Support is growing fast. Projects move at lightning speed. I love the approach. We have the right people in the right places, so there is a solid foundation to build on. I'm thrilled to be a part of enabling Customs Support to grow even bigger by finding more customers. Customs Support has big ambitions, and I love playing an integral role in that.