Meet Our People: Jens Stevens, Senior Customs Consultant in The Netherlands
Image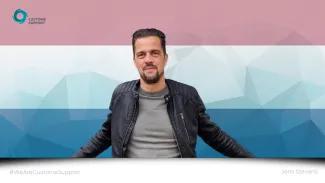 In our series #WeAreCustomsSupport, you will meet the people behind Customs Support. We value our colleagues and the work they do. 
In this series, we will interview the people who are always ready to assist you with importing or exporting your goodswithout worries. Next up in this series is Jens Stevens, who is a senior customs consultant in The Netherlands.
So, tell us a bit about yourself Jens! 
Hello! I live in the Netherlands, am 46 years old, and started at Customs Support as a senior customs consultant in June this year.
What does a senior customs consultant do?
I audit and advise companies on their strategic customs projects, helping them to understand their responsibilities, and risks so that they can improve their efficiency whilst remaining compliant. This can be as part of a maintenance quick scan, an AEO-assessment, or with a specific business goal in mind.
What does your typical working day look like?
It depends on the projects that I am working on, but usually I am in contact with many people. Whether it's answering our customers' questions, liaising with my colleagues on a project, or speaking with customs directly, I am normally speaking with somebody. I also work on setting up processes, or developing tools to make the work easier or more insightful.
What are some of the common problems that you solve for clients?
One of the main things that we see is an employee leaving a company, and they [the company] then find out that they have a gap in their customs processes or knowledge. I help clients with understanding their responsibilities as license holders, how to keep track of their bonded warehousing, or develop SOPs so that they can remain compliant with legislation and permits.
You help some companies with Regulated Agent (RA) licensing. What is that?
This is a type of authorisation that specifically applies to air cargo, and has some overlap with AEOS. It approves the shipper to move the goods directly to the plane as an accredited, safe company. Everyone involved in the process, from the freight coordinators to the people packing in the warehouse, needs to be accredited. There is a lot that goes into it.
What do you like most about your job?
The variety of questions and solutions that I can be involved with. I really like to be helpful and advise on customs topics and issues, and I get great satisfaction from a response from a happy customer.
You've been at Customs Support for six months. What have you liked most about joining the team?
I like that we are a big company, but we maintain personal relationships between ourselves, our team, and our clients. The consultancy team is one department, but we have the freedom to develop new services and the way how we work on the different projects. We can also collaborate with everyone else and draw on their experience.
It's nice that I have a lot of different projects, and it's good to be able to leverage the group's knowledge to help our customers more.
What are three examples of the projects you undertake?
I am currently involved in an AEO assessment that covers 10 different office locations of a client. After this evaluation, we will present the client with their results and discuss the next steps so that they know their chances of getting AEO accreditation and what they can do to improve them.
Another project I am on is remedial. We completed an audit for a client which highlighted several gaps. One of the issues is the way their WMS [warehouse management system] is communicating with their customs application, so we are helping them fix this. Additionally, we are helping them prepare forDMS 4.
I also have a project management type of consultation now, which involves me being on the customer's location. There, I need to interact with the different departments and their executives to help them to be AEO-compliant again.
What do you do when you're outside of work to keep yourself active and relax?
I spend time with my family and friends, and like to take my dog out. I also run and love to cook.  These things all keep my mind fresh and young.
What is the most important thing a client should look for when they're considering a customs consultant?
I think a customs consultant needs to be flexible in how they approach projects. Customers have different requirements, and they want someone who will go the extra mile to make sure they reach those outcomes. This only happens when we [customs consultants] put in the extra effort.
You work with a Europe-wide network. If you were to visit an office location of Custom Support, which city would you visit and why?
I'd love to go to Barcelona, but we don't have an office there yet. My second choice is Felixstowe in the UK. Since Brexit, there has been a lot of development there and I'd love to see how we can help each other do more.