Customs Support Safety in the Netherlands offers end-to-end safety services from container risk analysis to handling dangerous gasses in warehouses, containers, and other poorly ventilated areas. We have a wide network of locations to ensure that you always have our service within reach. Our services will save you time and resources by supporting you with:
High-quality gas measurements and trade safety solutions
The most advanced measuring technology and a digitalized approach to customs security
Experienced customs safety specialists
Contact us today and one of our consultants will be in touch.
Empowering your customs safety 

Junior Business Development Manager
Customs Support Safety provides a full set of services for your customs safety needs considering your unique situation and safety challenges.
The mission of Customs Support Safety is to make companies aware of the dangers of gases in enclosed spaces and other workplaces and to ensure a safe working environment.
Image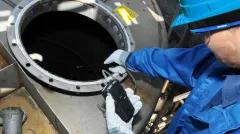 National coverage in gas analysis