Value-Added Safety Services
Customs Support Safety has an own warehouse in the Netherlands in which we offer several safety related services:
Transshipping goods with Personal Protective Equipment (PPE)
Repacking or short-term storage
Carrying out Phyco measurements
Contact us today and one of our safety specialists will be in touch.

Junior Business Development Manager
Image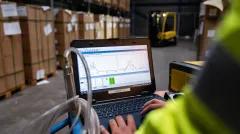 Your Partner for Safety Matters
Customs Support Safety has a dedicated drive-in location for some of your specific safety matters in Botlek, located in the Rotterdam harbour in the Netherlands. We remove the burden from gas measurement and container storage. This allows you to focus on the core steps in your logistics process. In addition, we support in preparation for your customs physical inspection and assist during these customs checks.
Value-Added Safety Services | Frequently Asked Questions - (FAQs)
How are you performing the gas measurement in your drive-in location?
Your containers will be measured on the chassis and after a negative gas measurement, you can drive directly to your end destination. If the measurement shows that there is an excessively high concentration of dangerous gases present, your container can immediately be degassed and ventilated. After this process, the container is measured again and after a negative gas measurement, you are informed that the container can be picked up.
What is the service you are offering in your container depot?
Your containers (full or empty) can be stored here for a certain period. The depot is close to the terminals, allowing a quick response when a container needs to be collected or returned.
Can you support me with the unloading of special shipments?
We can also unload special shipments with, for example, medical goods in which ethylene oxide is present and store them in our special (enclosed) warehouse so that the packaging evaporation is removed or reduced. The warehouse is equipped with blowers and suction to accelerate this process.
Where can you perform the gas measurements?
We carry out measurements on location at clients' sites and various inland terminals. In addition, we have a drive-in measuring station in Rotterdam where lorries can drop by for a measurement.
What is a Phyco measurement?
This is a gas measurement prior to a physical customs inspection. The Customs Authorities only accept measurement reports that are not older than two hours.