Image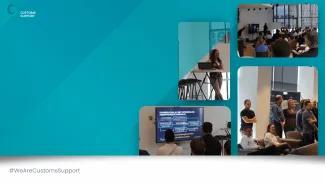 On Thursday 14th September, we organised an event together with Portbase and Stream Software, regarding DMS4.1.
We welcomed customers of Customs Support, Stream and Portbase Software at the Blaak 16 in the city centre of Rotterdam.  During out the day several speakers, from the mentioned companies, talked about the impact of DMS on their respective professions. This way we made sure, there was a story which covered the complete change.
On behalf of Customs Support, Laurie Engelen-Kuijken gave a presentation about the AGS to DMS topic, the possibilities and the impact from a customs-related perspective of different scenarios. Erik and Leon gave a presentation on behalf of Stream and told everything about the impact on their software and the roadmap. The day was wrapped up by Peter Vink and Ernst van de Graaf of Portbase, who told about the impact on their services.
Although there still are uncertainties, one thing is for sure: the change from AGS to DMS, especially to DMS 4.1, will have a major impact on all companies involved. So get yourself ready in time.
With almost 80 attendants from different logistical companies, we can look back at a successful event, with a good vibe, good food, beautiful weather in a really nice atmosphere.
Quote from Kevin Lammerts, Business Development Manager for Consultancy:
"It was good to see and talk to everybody about such a hot topic. It was good to experience that collaboration within the marketing which led to more clarity for everybody. The food, the weather and the great atmosphere made the event complete. All in all, I can look back at a really successful event."
Image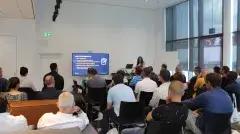 Image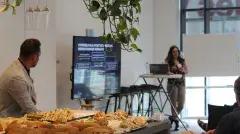 Image